This is the sixteenth installment in our series, "Trailblazing Genetic Counselors", in which we highlight genetic counselors who are pioneers in the field. Genetic counselors are health professionals with specialized graduate degrees and experience in the areas of medical genetics and counseling. Genetic counseling is a rapidly growing field offering professionals a wide range of opportunities, which we explore in this series. Learn more on the National Society of Genetic Counselors' (NSGC) website, aboutgeneticcounselors.com.
To keep updated with conversations and news in genetic counseling you can subscribe to our Twitter list featuring the latest updates from over 570 professionals in the field, all in one stream.
In this installment, we interview genetic counselors practicing in Canada (aka genetic counsellors) as we continue to explore genetic counseling around the world.
---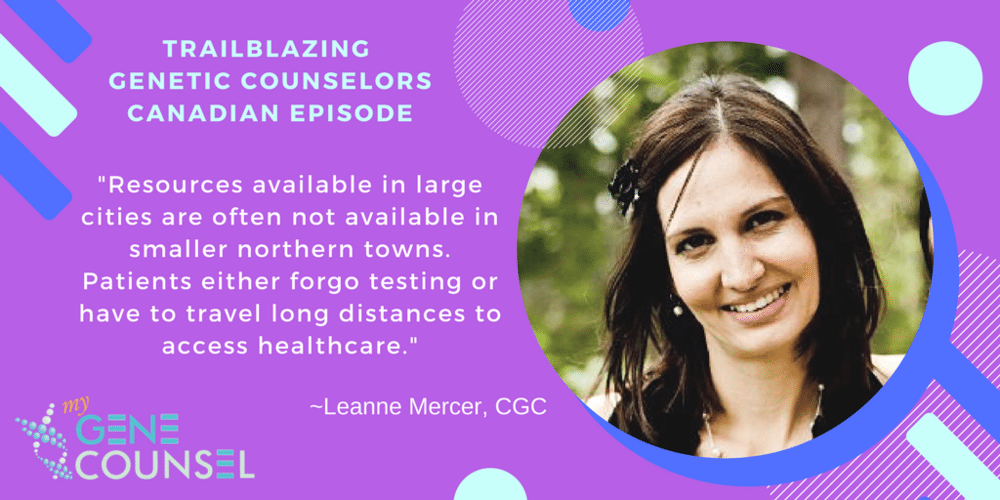 Leanne Mercer, CGC @LeanneMercerCGC
What are some of the challenges you face practicing in Canada?
Healthcare in Canada is provincial and each province has their own set of guidelines regarding genetic testing and screening. This can raise issues when family members live in different provinces and are offered different options depending on where they live.
How many genetic counselors do you work with directly?
In Thunder Bay, there is 1 full-time GC (me) and one part-time genetics nurse. However, Thunder Bay is part of a group of 5 genetics programs in northern Ontario called the Northern Regional Genetics Program (NRGP). Through the NRGP I work with genetic counsellors and nurses via telephone and video conference to ensure patients in the north receive equitable care.
Are there enough genetic counselors to meet patient demand?
Genetic counselling has really exploded in the last few years and there are not enough genetic counsellors graduating to fill the demand. In Thunder Bay, we have had a full-time permanent position available for over a year.
Do you collaborate with genetic counselors who are not local?
The ability to collaborate with other genetic counsellors within Canada is integral to working in a small program like the one in Thunder Bay. In addition to liaising with my colleagues in Northern Ontario, I am able to connect with genetic counsellors around Canada through the CAGC listserve (an email group consisting of genetic counsellors throughout Canada).
Are your/patient's resources limited?
Resources available in large cities are often not available in smaller northern towns. Patients either forgo testing or have to travel long distances to access healthcare. The genetics department does offer consultations via video conference; however, some appointments and tests require an in-person appointment.
How did you become a genetic counselor?
I began my undergrad in biochemical toxicology; however, first-year chemistry persuaded me to consider other options. An introductory to genetics class intrigued me, but I knew I didn't want to work in a lab. I found out about genetic counselling in my second year of university and it seemed the perfect combination of working in the field of genetics and but also with the public.
Do you specialize in any subfield(s)?
The first several years of my career as a genetic counsellor I strictly worked in cancer genetics. However, given Thunder Bay's small program, counsellors do not specialize as we all need to be able to work in all areas of genetics.
Do you serve on any committees/organizations?
I am currently the chair of the Certification Board, which grants Canadian certification to genetic counsellors. I am also a member of the social media committee (Twitter, Facebook, and website). I have previously been the co-editor of the Crossover (newsletter for Canadian GCs published 3x a year) and a member of the Genetic Counselling awareness week (GCAW) committee.
---
Ingrid Ambus , MSc, CCGC @IngridAmbus
What are some of the challenges you face practicing in Canada?
I think that our challenges are probably similar to those in other countries. We continue to try and raise awareness about the valuable work we do as genetic counsellors.
How many genetic counsellors do you work with directly?
I am fortunate to be part of a great team with 10 genetic counsellors and 4 geneticists.
Are there enough genetic counsellors to meet patient demand?
Genetic clinics are located in larger cities across Canada. In Toronto where I live and work, genetic counselling services are readily available at a number of hospitals and private clinics. More rural areas of the country have fewer GCs, so patients may have to travel long distances to have counselling/testing. Fortunately, there are well-established telemedicine services so that patients living in more remote areas can access counselling via video conference. Even in the large cities, however, most genetics centres have long wait times for new patients. There are currently only about 500 genetic counsellors in Canada for a population of over 36 million people!
Do you collaborate with genetic counsellors who are not local?
Yes. The network of GCs in Canada is quite good. There aren't that many of us, so we all seem to know each other!
Are your/patient's resources limited?
In Canada, we have provincial health insurance, and genetic counselling/testing services are covered. Each province has their own criteria for what tests are covered/when, but the cost of a genetic test does not usually factor into a patient's decision to access Genetics services. If a patient wishes to have a test that is not covered by their provincial insurance, they can choose to pay for it. As far as my resources, my one complaint is that there isn't more financial support for attending conferences.
How did you become a genetic counsellor?
After graduating with a psychology undergrad degree, I worked as a research assistant in the psychosocial oncology program at a cancer centre. One of the projects involved predictive genetic testing for children at risk for Familial Adenomatous Polyposis (FAP). I was shocked to hear that such young children were going to receive these life-changing genetic test results, but was told, "Don't worry, we'll have genetic counsellors involved". This led me to learn more about what genetic counselling was, and I realized it was what I wanted to do. I did my MSc at The University of Manchester in England, then moved back to Toronto work as a cancer GC.
What projects/research are you involved in?
I am a research coordinator for several cancer genetics related studies in our department. Most recently, I am helping to recruit for a "liquid biopsy" study, which uses NIPT technology to look at tumor DNA in patients newly diagnosed with breast cancer. There is a lot of potential for this testing so it is exciting to be a part of the research.
Do you specialize in any subfields?
My sub-speciality is cancer genetics. I am the lead GC for our clinical cancer genetics program.
Do you serve on any committees/organizations?
I am the co-chair of our hospital's Bereavement Support Team. This multidisciplinary group works to improve end-of-life and bereavement education for the hospital staff. We also help to organize bi-annual memorial services for families who have had a loved one die at the hospital. I became involved with the committee via the bereavement care we provide to patients who have had a genetic termination. In addition, it has been a great opportunity to learn more about the new Canadian legislation for Medical Assistance in Dying (MAID). I am also a member of the Canadian Association of Genetic Counsellors.
---
Taila Hartley , CCGC, CGC @TailaHartley
What are some of the challenges you face practicing in Canada?
In Canada, healthcare is publically-funded but is the responsibility of each of our provinces and territories. This means that we essentially have 13 different programs. Depending on which side of a provincial border a patient is born on they have access to different newborn screening and different genetic tests, which can be frustrating. Canadian GCs also have the unique challenge of living in an incredibly large country, with low population density as you get further from the Canada/USA border. It makes it hard to ensure equitable access to healthcare services for our patients and also makes it a challenge to stay connected as a GC community. We have one education conference per year through the Canadian Association of Genetic Counsellors, but GCs tend to only go when the conference is located close to home.
How many genetic counselors do you work with directly ?
I work with probably a hundred Genetic Counsellors in my role with Care4Rare Canada. We are a pan-Canadian research study that has research ethics board approval at most Clinical Genetics sites across Canada. Our goal is to improve care for all rare disease patients in Canada, but our largest initiative aims to provide molecular diagnoses for undiagnosed Canadian patients. We do this using multi'omic technologies (e.g., WES, WGS, RNA-Seq, and Metabolomics) and find a number of novel genes and mechanisms along the way. This work gives me the opportunity to communicate with Genetic Counsellors in all provinces from a variety of roles (clinical, research, laboratory, industry etc.). My job also allows me to work with dozens of international GCs through collaborations.
Are there enough genetic counselors to meet patient demand?
This is certainly not a problem that is unique to Canada. We all seem to struggle with long waitlists. I have been inspired by some of the alternative models of care that are being developed and tested by Canadian GCs. For example, group counselling has been pretty standard in Canada for a number of clinics for years and telemedicine has been used routinely in British Columbia for a while. I could name another three initiatives off the top of my head that are shifting and evaluating the model of genetic counselling care in Canada.
Do you collaborate with genetic counselors who are not local?
Yes, all the time. I love hearing about the unique patient populations seen by different groups. I think Canadian GCs are also uniquely challenged with knowing about a large number of ethnicities. We have a rich and interesting multi-cultural history in which various pockets of individuals settled in different regions of the country.
How did you become a genetic counselor?
When I was a kid I had this strange obsession with the nature vs nurture debate. It turned out that my high school biology teacher had studied with Kreb (of Kreb cycle fame) and she encouraged me to go into Biochemistry, which I pursued both an undergraduate and master's degree in. I loved Biochemistry, but more than anything loved communicating about science and so Genetic Counselling and all of the opportunities to communicate with various groups seemed like the perfect fit. I was right.
What projects/research you involved in?
Because I am a full-time research genetic counsellor I have the opportunity to work on a number of research studies. My salary is completely supported by grants. In addition to my work with Care4Rare, I actively contribute to the Matchmaker Exchange, PhenomeCentral, and am helping in the development of a research platform that will interact with RareConnect (a social media platform for families with rare diseases).
Do you specialize in any subfield(s)?
I dabble in all things 'omics, but I have been particularly focused on whole-exome sequencing (WES) and its utility for rare disease patients.
Do you serve on any committees/organizations?
I am currently chair of the scientific planning committee for the Canadian Association of Genetic Counsellors. I was also fortunate to be a member of both working groups for the Canadian College of Medical Geneticists tasked with writing the position statement on the application of genome-wide sequencing for rare disease patients in Canada.
---
Check out all other episodes of our Trailblazing Genetic Counselors series here.
Want to recommend a genetic counselor that deserves the title of Trailblazing Genetic Counselor? Tweet us at @mygenecounsel or email ellen@wordpress-643246-2098057.cloudwaysapps.com!