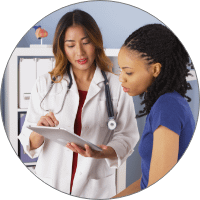 OFFERS HEALTHCARE PROVIDERS AN EASY WAY TO VIEW PATIENT GENETIC TEST DATA
Our genetic counseling reports enable healthcare providers to fully utilize their patients' genetic test results to provide tailored, personalized medicine and evaluate options to optimize health. Updating genetic counseling content allows for ongoing informed discussion between providers and patients. Healthcare providers can also sort which patients have been found to have specific genetic variants, yielding opportunities to identify who may qualify for clinical trials or targeted treatment.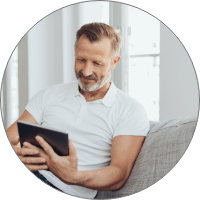 ENSURES DIGITAL GENETIC COUNSELING CONTENT AND RESPONSIBLE RETURN OF RESULTS FOR EVERY PATIENT
The Living Lab Report® bridges the gap while a patient waits to see a genetic counselor or healthcare provider and serves as a review after they've had their appointment. Our reports provide accurate information to those who test positive for a pathogenic finding, are critical for those who receive a genetic variant of uncertain significance (VUS, often misunderstood), and explain negative results that are often misinterpreted as overly reassuring. Overall, returning results electronically through a Living Lab Report results in informed patients, better care, and fewer wasted resources due to inappropriate visits and interventions.
PROVIDES AN AUTOMATED WAY TO KEEP PATIENTS AND PROVIDERS UPDATED WHEN SCIENCE OR MEDICAL MANAGEMENT CHANGES
Medical management guidelines and expert opinions are issued by multiple bodies and updated frequently. The burden to keep patients up to date falls to busy clinicians, who often can't locate and keep abreast of the latest guidelines for every gene. Living Lab Reports® serve as a lifetime reference and keep healthcare providers and their patients in-the-know.
HEALTHCARE SYSTEMS
We drive improved standard of care with immediate, comprehensive, and continually updated genetic information for patients and clinicians. Our Living Lab Reports® save resources by streamlining clinician and patient support and automating communications.
CONTACT
For more information please drop us a line
The conversations I have with patients about genetics are the hardest. This is an amazing resource that arms clinicians with the necessary knowledge to have those conversations and ensure patients are getting consistent, expert care.
ARTHUR OLLENDORFF, MD, OB/GYN