GENETIC COUNSELOR MULTIPLIER
My Gene Counsel allows health care providers to efficiently offer genetic testing to more patients, while realizing increased quality and reduced costs. This enables health systems to deliver on the promise of precision medicine responsibly, while increasing revenue.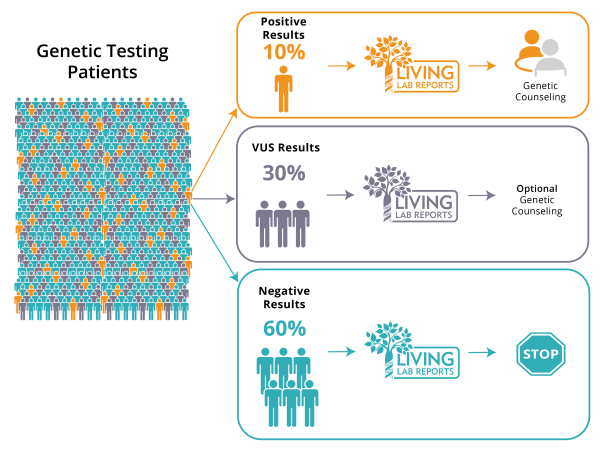 IMPROVED ACCESS AND HIGHER QUALITY CARE
Significantly reduces patient wait times and delays in testing, treatment, and screening
Ensures responsible return of all results (positive, negative, VUS)
Integrates test results into precision medicine, informing patients and clinicians of what they need to know, when they need to know it
Notifies patients and clinicians when critical new information emerges (e.g., new risk information, updated management guidelines, clinical trials, variant reclassifications)
AMPLIFIES GENETIC COUNSELOR RESOURCES
Allows for efficient use of internal genetic counselor time by prioritizing patients with positive/VUS results, enabling genetic counselors to practice at the top of their scope
Reduces reliance on external genetic counseling resources by supporting physician-initiated testing
COST SAVINGS AND DOWNSTREAM REVENUE
Saves on unnecessary services and inappropriate interventions
Reduces liability risk
Keeps patients updated and engaged to come back for screening and risk-reducing procedures
HOW HEALTH SYSTEMS ARE USING MY GENE COUNSEL
Too Few Genetic Counselors and COVID-19 Impacts
A large hospital system has too few genetic counselors, a workflow impacted by COVID-19, and a need to process substantial numbers of test results more efficiently.
No Genetic Counselors and Physician-Initiated Testing
A large private practice has moved to physician-initiated genetic testing and could benefit from support, updates, and standardization of care across providers.
Clinical Support for New Genetic Testing Protocol
A cancer center wants to standardize paired somatic and germline testing but knows its oncologists need clinical support and its patients need education and informed consent.
Expanding NIPT Without Adding Genetic Counselors
A medical center is now offering NIPT to all pregnant women, but its clinicians do not have the time or knowledge to provide pre-test counseling and return results.
CONTACT
For more information please drop us a line
The conversations I have with patients about genetics are the hardest. This is an amazing resource that arms clinicians with the necesssary knowledge to have those conversations and ensure patients are getting consistent, expert care.
ARTHUR OLLENDORFF, MD, OB/GYN