February 2021 Update
In light of National Donor Day, we checked in on My Gene Counsel's Meagan Farmer, her husband Brantley, and their brother-in-law, Greg. You can read their original interview down below, which tells the story of Brantley's kidney donation to Greg, who has a genetic condition called autosomal dominant polycystic kidney disease (ADPKD). Here, we caught up with the trio to see how they've been coping during the COVID-19 pandemic.
---
Greg has worked in information technology for 25+ years. In 2020, he took a faculty position at Wallace State Community College in Alabama as an instructor for their computer science program. In March 2020, they were sent home to teach virtually due to COVID and the safer-at-home mandates.
"Getting accustomed to teaching virtually took some effort. Overall, it was a good experience, even though I believe the students lost out a bit. There's just no substitution for being in the classroom," said Greg. "Now here in 2021, we are back in the classroom with smaller student counts so we can maintain social distancing. It's good to be back in front of the classroom teaching. And I'm thankful to be healthy enough to have this opportunity."
Brantley also adjusted to working remotely due to COVID and enjoys it. He is adding to a large fish tank featuring South American fish species and live plants. Meagan was already mainly working remotely for My Gene Counsel. She still sees cancer genetic counseling patients part-time at UAB and shifted to conducting many sessions by telehealth. Since she still has some in-person patients, who are often immunocompromised, she was grateful to receive the COVID vaccines in December and January.
For Meagan and Brantley, 2020 was also a good year to add a new family member. Louise, the Great Dane, is now a year old and over 100 pounds. In combination with their dog Csonka, there are almost 250 pounds of dog in the Nelson house. Csonka and Louise would be shocked to learn that some dogs spend entire workdays at home alone and don't have dedicated home office beds and toy boxes!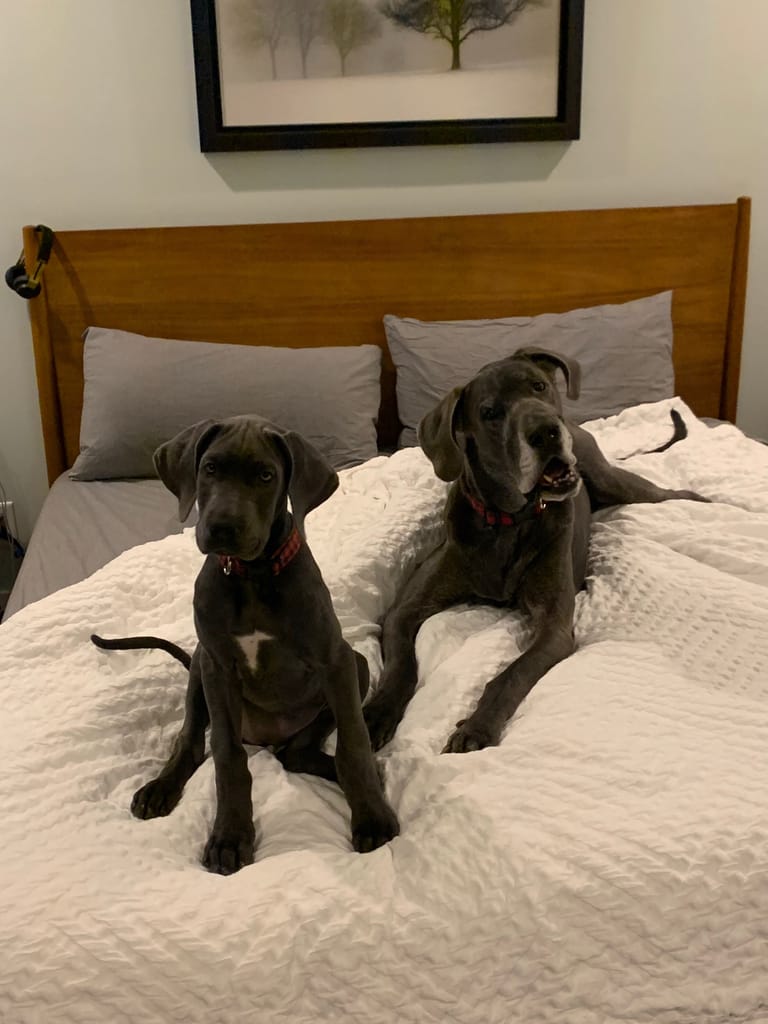 ---
Though data are limited, transplant recipients on immunosuppressants are likely at higher risk for severe COVID disease. The pandemic is also affecting organ transplants. Some transplant centers have temporarily closed, and some transplant surgeries have been delayed until the risk of COVID infection is lower. Visit the American Kidney Fund for more information on becoming a kidney donor and the impact of the COVID-19 pandemic on kidney transplant.
February 2020 Update
Whether you love it or hate it, most people know February 14 as Valentine's Day, a celebration of love and all things heart shaped. But another important day is observed each year on February 14, and it too involves love and sometimes hearts – and that's National Donor Day.
National Donor Day is dedicated to raising awareness about organ donation and encouraging people to register as donors. It's also a day to recognize organ donors and recipients, as well as those who have passed away or are still waiting for a transplant.
Organ donation hits close to home for My Gene Counsel. Last year, we shared a post about My Gene Counsel's Genetic Clinical Operations Director, Meagan Farmer, whose fiancé, Brantley, selflessly donated a kidney to his brother-in-law, Greg.
In light of both National Donor Day and Valentine's Day, we thought we'd re-share this interview and update you on their story. In donor news, Brantley and Greg are both doing well! And in love news…Meagan and Brantley married in a beautiful December wedding! Check out some pictures from their special day.
The following article was originally published in March 2019
The second Thursday of every March is World Kidney Day, and My Gene Counsel has several personal reasons to celebrate: Our CEO's husband is the grateful recipient of a kidney donation. And the fiancé of our Genetic Counseling Business Manager, Meagan Farmer, is a kidney donor to his brother-in-law, Greg. Here, Meagan interviews Brantley and Greg about their journey, which demonstrates the importance of our kidneys and organ donation.
GENETIC COUNSELING NOTE: Autosomal dominant polycystic kidney disease (ADPKD) is a genetic condition caused by a mutation in one of four different genes: PKD1, PKD2, GANAB, or DNAJB11. People with this condition develop cysts on both kidneys, which can lead to kidney failure. More than 50% of people with ADPKD will develop end-stage renal disease by age 60, requiring dialysis or a transplant. Other symptoms include cysts on other organs and increased risk of aneurysms, but the condition is variable. Even family members who have ADPKD may have different features and disease severity. People with ADPKD have a 50% chance of passing the condition to their children. Because high blood pressure can develop in childhood, at-risk children should have their blood pressure monitored beginning at age 5. Imaging or genetic testing can diagnose ADPKD. This is usually considered in adulthood.
MEAGAN FARMER: Greg, when were you first diagnosed with PKD?
GREG: I was 25 when first diagnosed. A pre-employment physical revealed very high blood pressure for someone my age – something like 170 over 95. I was required to get under a doctor's care before I could start the job. When I went to the doctor, he asked about my family history. I told him that my mother had polycystic kidney disease (PKD). Based on this, the doctor thought it would be good to screen me for PKD. An ultrasound scan revealed I had multiple cysts on my kidneys.
MF: When did you learn that you would need a kidney, and what was the search and testing process like?
GREG: I was 36 when my kidneys had failed to the point where I was evaluated for a transplant. This was in December 2006. I was admitted to UAB for a full day and night of screening tests. This included MRI, ultrasound, bloodwork, and other labs, as well as a psychiatric evaluation, social services, counseling, education sessions, and more. The evaluation team recommended that we open up our search for willing living donors.
MF: Brantley, what compelled you to be tested to see if you were a match?
BRANTLEY: My sister, Lorrie, pulled me aside one day and asked if I would consider getting tested. I was 26 at the time and had known Greg since I was 8 or 9. I saw him more like a brother than my sister's husband. Saying yes was a no-brainer.
MF: Greg, what was it like for you when you learned that Brantley was a match?
GREG: I actually learned that both Brantley and Lorrie were matches. I had tremendous pause knowing I needed to accept a kidney from either one of them. My doctor suggested not going with Lorrie so that our son did not experience both parents being out of commission at the same time. After several days of prayer and reflection, we decided that accepting the kidney from Brantley was a gift I was blessed to be offered.
MF: Brantley, how about you? What was it like for you when you learned that you were a match?
BRANTLEY: I was excited. To me, it was a small price to pay for the wellbeing of not only Greg, but my sister and nephew.
MF: Greg, how did things change for you post-transplant?
GREG: Post-transplant I was back to full energy levels. I was able to spend time with my son in all of his activities and to fully engage with him. I was able to go to graduate school and had the energy to work and handle the course load along with full family involvement. I've been able to continue my life and see my son grow up. Truly the gift of life.
MF: Brantley, what would you tell other people considering being living donors?
BRANTLEY: There are a number of useful resources online, so make sure you educate yourself. I know it's easier said than done but try not to stress too much about the surgery. The pain is not too bad and goes away quickly, as do the scars.
---
Want to learn more about becoming an organ donor? Check out OrganDonor.gov for statistics, stories, and to sign up!