Updated June 14, 2019 by Ellen Matloff
When I originally published this article, I disclosed how much of an imprint this case left on me. Now, as we approach the 7-year anniversary of finally discovering the genetic mutation that plagued Nate's family, I decided to reach out to Nate's dad, Larry, to see how the family has been doing. He had the following updates to report:
We are hoping to relocate down south. One of our sons has been down there for a few years and is getting married this year. Once down there, we know of at least one organization that does a great job of raising money and awareness for colon cancer that we will most likely get involved with. We have grandchildren who will undergo testing for the GREM1 mutation in the not-too-distant future. If they don't have it, great. And if they do have it, at least we know that by age 15, they need to get a colonoscopy. Without knowing the genetics, the uncertainty would be unbearable. This is just one part of Nate's legacy to our family and the world.
---
Originally published June 1, 2016 by Ellen Matloff
There were hundreds of patients and moments that left imprints on me over my 20-year career as a clinical genetic counselor, first in pediatrics at SUNY Syracuse and then as the founder and director of the Yale Cancer Genetic Counseling Program. One of those moments occurred on June 1, 2012.
One of my many patients was a young woman whose brother, Nate, was diagnosed with advanced colon cancer at age 21. (Nate's father, Larry, shared their poignant story here.) Their family history included generations of early-onset colon cancer and polyps of different types. The family had already been worked up at a well-known genetics clinic in New York, and all of the obvious gene suspects had been tested and came up negative. Nate's sister had a few polyps but had never had cancer and was not the obvious candidate for testing. The obvious candidate was Nate.
Nate showed up at my office a few weeks later looking like a thin college athlete, rather than a patient with advanced colon cancer. He had a smile on his face, an easy laugh, and was willing to do anything I asked in search of the mutation in his family. His goals were clear: he wanted to help his family members, and other families, avoid his fate. He knew that he was living with cancer and not searching for a cure. We reviewed all of the genetic tests that had been ordered and then ordered a few more – the rare outliers just then being included on cancer panels. Nothing. But I promised Nate we'd keep looking.
I arranged a family study day, and Nate's family invited relatives from near and far. The family members all drove to Connecticut, signed consent forms, gave blood samples, and patiently allowed us to examine their skin, their medical records, and ask a million questions. We studied their DNA. Still nothing.
Nate raised money for our search through a foundation he created. The day he presented us with that check, he and I spent the afternoon together, recording a podcast, and taking photos.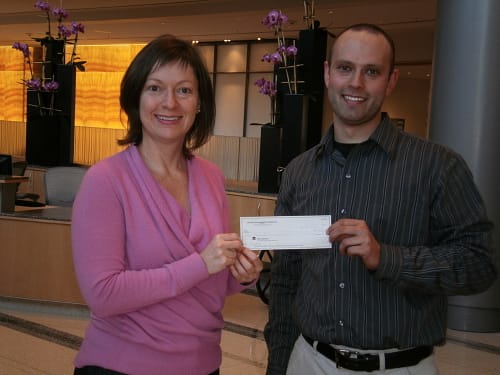 Despite the obvious path, I was somehow surprised to learn of Nate's passing in October 2011 at age 24. The mission to find an answer, to find the "why," now became even more critical.
Several months later, a molecular pathology fellow, James Ziai, was doing a rotation in genetic counseling and was reviewing our "unsolved charts." I showed him Nate's case and pedigree. A few months later, James said to me quietly and in passing, "Hey, I think we found the mutation in Nate's family."
James is a quiet, sedate pathologist and likely unprepared for me to yell, "WHAT??!!! WHAT??!!!" and start jumping up and down. He seemed a little surprised when I began crying and pumping him for details. We agreed that we needed to confirm the result and trace it through the affected family members before releasing details. I was on poor James like white-on-rice for the next several weeks while he performed that lab work. Then, late on the Friday afternoon of June 1, 2012, he called to give me the "go for it" sign.
I raced home from work to relieve my nanny, feed my 2-year-old daughter dinner, and put her to bed. I then sent Nate's dad the following email:
Date: Fri, Jun 1, 2012 at 7:03 PM
Subject: News
Dear Larry,
I hope this e-mail finds you and your family well.
We finally have some results and I think they are significant. Please let me know when you can talk and how I can best reach you.
Many thanks,
Ellen Matloff
Larry wrote back immediately with his phone number, and we spoke minutes later on that Friday night. Finally, finally, we had an answer. A GREM1 mutation was responsible for the cancers in the family. We could now realize Nate's dream to change the course of history for his family members and to prevent other families from sharing his fate. Larry and I both understood the gravity of the situation and the victory we had won in Nate's memory and honor.
Four years later and it still makes me cry. Nate, buddy, we did it! You did it. Your family did it. Thank you.