Keeping Your Finger on the Pulse of Genetics with our Living Lab Reports®
Driving Precision Medicine Forward
Powering Individuals to Make Informed Healthcare Decisions
We bridge the gap between genetic testing and precision medicine by addressing one of the most critical pain points in the industry – lack of accurate and timely genetic counseling information for patients and providers. Our Living Lab Reports® deliver genetic counseling information that updates as new disease information emerges, guidelines evolve, and genetic variants are reclassified. This empowers our partners to efficiently deliver on the promise of precision medicine.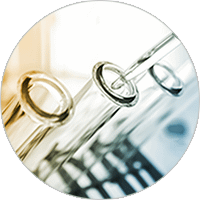 POPULATION STUDIES
We add value by providing the ability to responsibly return results and recontact participants as new risk information, management guidelines, and variant reclassifications become available.
HEALTHCARE SYSTEMS
We drive improved standard of care with immediate, comprehensive, and continually updated genetic information for patients and clinicians. Our Living Lab Reports® save resources by streamlining clinician and patient support and automating communications.
PRECISION MEDICINE PARTNERS
We derive meaningful insights from a patient's genetic test results and deliver them safely, effectively, and efficiently to patients and providers, allowing key stakeholders in the care pathway to realize the promise of precision medicine.
TESTIMONIALS
"It Fills A Big Gap!"
"You covered every. single. point. All in one place. This is a resource I'll bring with me to all my doctor appointments to help me have an informed conversation."
Shannon Pulaski
Author of Mom's Genes
"The idea to create a scalable, digital genetic counseling tool that would serve large-scale population studies was innovative and has arrived when it is needed most."
Vince T. DeVita, Jr.
MD, FACP, FASCO, FAACR
"My Gene Counsel meets the urgent need for a scalable patient-centric digital counseling tool to follow patients over time in the post-test period, effectively translating genome science at the patient, provider, and system levels."
Gillian Hooker
PHD, SCM, LCGC
A patient diagnosed with metastatic, poorly differentiated, stage IIIB invasive ductal,...
read more
WHO WE ARE
Your mGC Founders
Our Founders are certified genetic counselors with more than 30 years of clinical experience and leadership in genetic counseling and testing. From deep in the trenches of clinical care, they saw the need to provide consumers and clinicians with a progressive, digital method of staying up-to-date on their genetic test results.